Experts' Bulletin #7: Is 'Cancel Culture' Good for Society? An Economics Perspective
Some people have criticized "cancel culture" as a dangerous manifestation of mob rule; others argue that it serves as a new way of holding people accountable for their actions. In this webinar, held on Wednesday, 22nd July, 2020, Dr. Al-Ubaydli explained how concepts from economics can help analyze the new phenomenon.
The Experts' Bulletin online webinar series feature Derasat experts sharing and discussing updates on trending topics.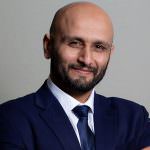 Dr. Omar Al-Ubaydli
Director of Studies & Research
Dr. Omar Al-Ubaydli is Director of Studies and Research, and Director of Economics and Energy Studies. He previously worked as an Assistant Professor of Economics at George Mason University, USA, as well as being a member of Virginia Governor Bob McDonnell's Joint Advisory Board of Economists. Dr. Al-Ubaydli received his BA in Economics from the University of Cambridge (Queens' College) and his MA and PhD in Economics from the University of Chicago. Dr. Al-Ubaydli's research has been published in several international, peer-reviewed journals and has been featured by media outlets including the Economist magazine.