Expert Bulletin: Arabian Gulf States' Management of the Kuwait Invasion Crisis and Liberation: A Strategic View of the Gulf-International Alliance
This Experts' Bulletin shed light on a major crisis the GCC countries faced; that of the Iraqi invasion of Kuwait in 1990 and the liberation war of 1991. These events demonstrated a key example of managing a regional crisis with a global dimension; one that simultaneously had all three elements of a crisis: a sudden event, requiring critical decisions, in a limited time period. Therefore, this webinar examined the nature of that crisis and its implications, and how the GCC countries managed it to achieve the final objective: restoring Kuwait's legitimacy through the Gulf's Arab and Global cooperation. That crisis was an essential transformation in the regional security equation.
The webinar was presented by Dr. Ashraf Keshk,  on Wednesday, August 11th, 2021.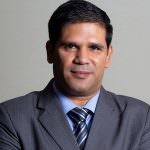 Dr. Ashraf Keshk
Research Fellow, Head of Strategic and International Studies
Dr Keshk is a Research Fellow and Head of Strategic & International Studies with Derasat and was previously Director of the Diplomatic Center for Strategic Studies in Egypt (Cairo branch). Dr Keshk has held the post of Fellow at the NATO Defence College, Rome specialising on Iran, Iraq and regional security and was also a researcher for the Egyptian Parliament and later worked for the Gulf Center for Strategic Studies in Cairo, specialising in regional and Gulf security. Dr Keshk regularly contributes studies and articles to the Al Ahram Center for Political and Strategic Studies, Egypt and has supervised and authored many studies on strategic and security issues. He obtained his Bachelors in Political Science and his Doctorate, which focused on Gulf Security, from Cairo University.